Once your child makes the transition to school, Fair View is still able to be of service to you as we offer an After School Club.

This operates throughout the term times both before and after school. The Club opens at 7.30am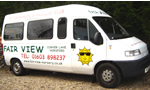 and the children are given the option of breakfast before being transported to school. Currently children are taken to Horsford, Drayton, Ghost Hill and Nightingale First School, and Horsford and Drayton Middle Schools.

Many fun projects and relaxing activities are offered to give the children a chance to relax after a hectic school day, and the large garden provides the opportunity to play football games or play on the many bikes and scooters. Recent theme weeks have included Around the World in Eighty Days, Science Fun and Fashion Week.